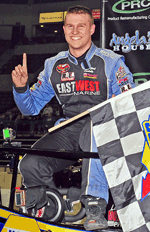 TRENTON, NJ – February 8, 2014 . . . Auto racing returned Friday night to New Jersey's State Capital for the first time since the last race at the New Jersey State Fairgrounds in 1980 inside Sun Bank Center and in a rousing program of Three Quarter Midget indoor racing action, two immensely popular first time winners took home the victories in 20-lap main events.
Ryan Preece of Berlin, Ct., gained the lead after a frenetic 17 laps of non-stop action ended with a tangle that took out the top three leaders, Jonathan Reid, Jimmy Blewett and Andy Jankowiak.
Preece then ran out the last three laps to win over Patrick Emerling, Neal Williams, Shawn Nye and Matt Janisch.
"If anyone had told me I would win the first TQ 20-lap feature I would never have thought it possible," said Preece, the 2013 NASCAR Whelen Modified Touring Series champion.
In the second 20-lap TQ Midget feature, an event punctuated with several accidents, Jankiowiak gained a measure of redemption by leading most of the distance. The Cheektowaga, N.Y driver was an emotional winner.
"I knew I had a chance when Lou Cicconi was behind me," Jankowiak said. "Louie raced me clean and it gave me some room to work lapped traffic."
Jankowiak's ability to work his way through heavy lapped traffic proved to be the critical difference.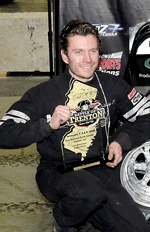 Cicconi was second at the end of the second feature with Reid, like Jankowiak, gaining some measure of satisfaction after his issues in the first feature by taking third. Ryan Tidman, who barely qualified into the Twin Twenties, had an outstanding effort to place fourth and Emerling, by earning fifth, was the only driver to gain a top five finish in the twin TQ main events.
The Slingshot 25-lap co-feature was won by Gary Hieber, Jr., of Penndel, Pa., who outran Matt Carman and Tiffany Wambold. Shannon Smith, who ran second to Hieber for the first half of the race, was fourth and Kevin VanValkenburg finished fifth.
Two drivers were transported to area care centers after mishaps during the day. Steve Kemery of Sewell, N.J., crashed heavily in TQ Midget practice after car's throttle stuck. In the Slingshot feature, Lydia Rueckheim was extricated from her car after complaining of neck pain. Neither driver was believed to have sustained serious injuries.
PC Industries / Angela's House sponsored the night of action which continues Saturday night as the Battle of Trenton concludes with a 40-lap TQ Midget headliner and a 25-lap Champ Kart main event. Racing starts at 7 p.m. Check for information at www.aarn.com or telephone 609.888.3618.
First TQ Midget Feature (20 Laps): 1. Ryan Preece, 2. Patrick Emerling, 3. Neal Williams, 4. Shawn Nye, 5. Matt Janisch, 6. Rowan Pennink, 7. Tony DiMattia, 8. Lou Cicconi Jr., 9. Rob Neely, 10. Jimmy Blewett, 11. Ryan Tidman, 12. Luke Thomas, 13. Andy Jankowiak, 14. Matt Roselli, 15. Jonathan Reid, 16. Billy Pauch, 17. Erik Musto, 18. Billy Pauch Jr., 19. Zane Zeiner, 20. Paul Lotier, 21. Bobby Butler, 22. Ted Christopher, 23. Mike Lichty, 24. Anthony Sesely, 25. Richie Pratt, Jr.
Second TQ Midget Feature (20 Laps): 1. Jankowiak, 2. Cicconi, 3. Reid, 4. Tidman, 5. Emerling, 6. Blewett, 7. Preece, 8. DiMattia, 9. Thomas, 10. Sesely, 11. Zeiner, 12. Williams, 13. Janisch, 14. Pauch Jr., 15. Butler, 16. Neely, 17. Roselli, 18. Musto, 19. Nye, 20. Pauch, 21. Pratt, 22. Lotier, 23. Christopher, 24. Lichty, 25. Pennink.
Slingshot Feature (25 Laps): 1. Gary Hieber, Jr., 2. Matt Carman, 3. Tiffany Wambold, 4. Shannon Smith, 5. Kevin VanValkenburg, 6. Frank Yankowski, 7. Bobby Dmuchowski, 8. Mike Carman, 9. Jerry Schott, Jr., 10. Robbie Albreada, Jr., 11. Mike Alcaro, 12. Jesse Hartman, 13. Matt Stangle, 14. Jason Ring, 15 Don Boonstra, 16. Nick Shaw, 17. Simon Egan, 18. Dave McCullough, 19. Kurt Bettler, 20. Steve Yankowski, 21. John Gilroy, 22. Lydia Rueckheim, 23. Matt Massone, 24. Ricky Yetter.