By STEVE BARRICK
A ruling by the Town of Kirkwood (NY) at its Tuesday May 20, 2023 work session that rescinded a developer's prior application to rezone the Five Mile Speedway site has provided an opportunity for track owner Andrew Harpell to continue racing operations through this summer.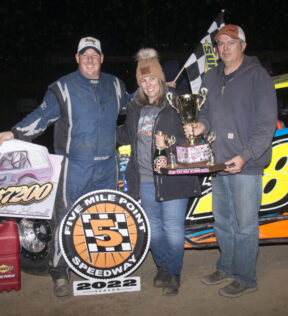 "The plan had been rescinded. It's being changed, and a revised site plan from the same buyer will be resubmitted," Harpell informed.
Harpell's first contact with the buyer was in November of 2020.  The revision came about because of public opposition to the original plan as it had been submitted.
"Quite frankly, the same people who complained about the race track were the ones who were complaining about the site plan," Harpell said.
Harpell believes that the newly submitted plan will revise the previously proposed entry way. Refiling a new site plan will create additional delays moving forward with redevelopment.
"It doesn't give me any clarity whatsoever at this point, I have no answers," Harpell offered.
While answers are elusive, the renewed opportunity for racing at Five Mile Point has taken hold.
"Our first Modified race on the May 21 we had 26 Modifieds which in these days is pretty good," Harpell shared.
The events scheduled are primarily on Sunday nights. When the redevelopment track had seemed to be speeding along, Harpell had ceded Saturday night to Afton Motorsports Park.
"There are people on social media who will blast anything, find a conspiracy in everything. I gave my Saturday nights, the night Five Mile Point has run on for 72 years, to another track.  If you think that's the basis for a conspiracy, you've lost your mind," said Harpell.
"I'd be running Saturdays obviously, but that's not an opportunity that I can do at this point."
Five Mile Point has already run three Sunday races, two featuring Sportsman cars and one with Modifieds.
"We have five Sunday races scheduled moving forward, with the additional, who knows if we might be able to do more.
Current dates are June 11, Tuesday, June 20 for the Mike Colsten Memorial, July 16, July 30 and August 13.  All the race dates will feature Modifieds as the premier division.
The Colsten Memorial on Tuesday, June 20 was scheduled by Harpell at the request of the Colsten family who wanted to perpetuate the memory of one of the speedway's most popular drivers and among its most prolific winners.
Though sacrificing Five Mile's Saturday night race night in retrospect wasn't wholly desirable, Harpell did not sell off the track's equipment as had at one point been planned to take place by the end of 2022.
"I don't believe I jumped the gun with any of this, last year we really did want to run one last race. When that race was over, I thought it was over," said Harpell.
"When the opportunity presented itself to reopen, I honestly had no expectations. In years past, we knew we had our weekly guys. Now, we don't really have anybody. In all fairness to them, they have to make choices as to what they wanted to do. So, I'm appreciative of the turnouts we have had.
"If you love Five Mile Point, the track is just racy as it has always been. The races we have run have been run off well," Harpell said.
Harpell was fortunate in that he had subcontracted his concessions a few years ago and was able to maintain those relationships when the track reopened.
"We have food trailers as concessions, which we started during COVID and kept using them. We were lucky about that," he informed.
Yet the course of events, while positive, is not an easy one to undertake and promote.
"Because of the timing, we came into the season with zero sponsorship. That is what we are struggling with right now, struggling to sell laps for Mike Colsten's race which we have done every year.
"It just makes everything harder. In fairness to people, they don't know what to expect and I don't know what to expect. The track could be here another ten months, it could be here another ten years," Harpell reasons.
At this point, Harpell said his guidepost is to make the best of the information he has available to him and make decisions on additional races this year and beyond as the sale process evolves.
"One thing people need to keep in mind is we need to run races to keep our zoning especially if things ultimately fall completely apart. That's another big consideration for racing this year as we are."
Harpell believes that the current Five Mile Point schedule could very well be extended into the fall, depending on the continued high level of competitor and spectator support.
In that, he is limited by the uncertainty of when – or if – the proposed redevelopment plan moves from concept to shovels-in-the-ground.