By LEN SAMMONS
Paulie Colagiovanni's dream is to one day race a 410 Sprint Car full-time, but he lives in upstate New York that's far from their Central Pa. home base. This season, however, he's done some major traveling to compete with Kyle Larson and Brad Sweet's new High Limit Series.
"It definitely built memories and it builds up a driver to be better," said Colagiovanni.
"If you're running with better guys you have to be willing to try more things, just like them."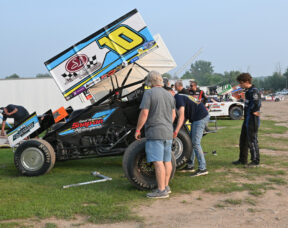 During CNY Speedweek he parlayed what he had learned on the road and racing the faster 410 Sprints to win the CNY 360 Sprint Speedweek championship and Friday's race at Brewerton Speedway.
"I think I've learned a lot. New York has its slick tracks, but once you get away from here there are some pretty heavy race tracks," said Colagiovanni.
"I've learned a lot racing with the 410s, tried some of their set-ups and mix-matching them with what we do. It's a big advantage hopping out of a 410 and getting back into a 360."
While the experience has been both very tough and yet rewarding, he's decided to settle down for now and stick to racing locally.
"We're trying to get a 410 win under our belt, but it's tough because no tracks around where we live race them weekly," said Colagiovanni.
"For now we're just going to run the 410 when they come to town. Maybe in a couple of years we'll run with the All Star tour or full-time at Port Royal (Pa.) for a year and see what happens."
Circled on his calendar is an upcoming All Star race at N.Y.'s Ransomville Speedway. It's a track where the then 20-year-old driver nearly defeated the World of Outlaws. At that event in 2021 he finished second to winner Aaron Reutzel.

"I'm really looking forward to that race. We just got a new Maxim, I'm hoping to build it in time to run it there," said Colagiovanni.
"That would be the same car we had when we ran second against the Outlaws. Hopefully we can start off there the same way we left it two years ago."
From the time he started in Micro Sprints, all Colagiovanni could think about was racing Sprint Cars. His dad moved him up into one quickly and he's more than proven he can race with the best in the business.
But he's now getting a bit older and has begun to look ahead in life while starting his own business.
"I just started a spray foam installation company. I try to do five jobs a month, but it's been tough to keep a constant flow of work," said Colagiovanni.
"But that worked out well when we were traveling 13 hours one way to race with the High Limits. Not having a job to do the next week helped us. But I'm getting busier in the foam work now and traveling that far and finishing my night in the B-main was making it tough on us. So we're going to try and stick around home a little bit now and try and get our 410 program figured out. Then we'll push it back out there and see how we do."
Going up and down the road was a new experience. In the past the team focused on 360 Sprint Car racing in New York with ESS or the former Patriot Series.
"We were coming back from Lakeside Speedway (Kansas) and our trailer broke. Our right side wall fell on the tires," said Colagiovanni.
"We had to go buy a new trailer, thankfully we were only an hour away from Elliott's (Trailer Sales). We unloaded everything in a Love's (Truck Stop) parking lot. Put it all in the new trailer and took off."
What happened to their damaged trailer?
"Left it at the Love's and asked Elliott's to pick it up for us and they did, and we're very thankful they did," explained Colagiovanni.
Like they say, there is no place like home.
"Racing on the road is fun, but going to work ten minutes from where you live isn't so bad. Going home, having dinner and hanging out with your dog is awesome too," reasoned Colagiovanni.
While he's not married, he hinted that might happen soon as well.