By LEN SAMMONS
When the Pa.'s Clinton County Speedway announced on Friday (August 11) that they were moving the starting time up two hours for Saturday's 410 Sprint car race because of impending weather, Dale Blaney could have easily cancelled his plans to make the trip east from his home in Hartford, Ohio.
Instead, proving he still has the will to race, he made the three-hour trip despite a possible cancellation. Then proving he has something left in the tank, he impressively won the Phil Walter's Classic for the 410 Sprints and $6,300 on a very slick racing surface.
"That track fit my 59-year-old driving style a little bit better than some other tracks have this year," said Blaney afterwards.
"I understand that, I'm not saying I'm as good as I use to be at 50 or 52, I'm not even close. But I still want to keep racing, have some fun and beat some of these young kids every now and then. Every time I set in one it's a challenge to see if I can still do it. Tonight's results made it all worth it."
A six time All Star series and Ohio Speedweek champion, Blaney was without a ride during the 2020 season, so he took a position as an All Star series official.
"It really wasn't a big deal not racing. There were not many nights I was wishing I was in a car and not being an official," said Blaney. "When you don't have the itch to get in one, you know it's time to go. Everyone gets to that time and I know mine is just around the corner."
This year he's rallied back, winning two features at Ohio's Sharon Speedway and one on Saturday in the Western, PA based Jerry Barris No. 32.
"It's been fun for these guys. They grew up racing go-karts with Jerry whose nickname is Tiger. He just absolutely loves Sprint Car racing and Scooter (crew chief) has been around it a long time working on them," said Blaney. "We're just having fun. It's been frustrating at times for me a little bit because I want to be able to do the things I once did and I can't."
Former Sprint Car owner Gene Jenkins, who lives near Clinton County, has been recently helping the team.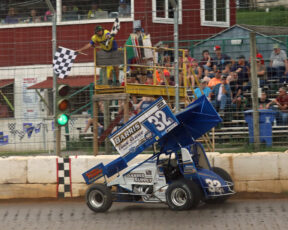 "Gene helped us recently at Weedsport and at Lernerville a couple of weeks ago, he came to Sharon for my dad's memorial race," said Blaney.
"He traveled with me in 2000 on the All-Star circuit for the entire year. He's an awesome friend and a great guy. I love when he comes to the race track, he takes a lot off my mind. I told him, 'you do want you want to it, I'm going to go watch the track'. He knows what I like and did a great job with it tonight."
The Blaney family own and promote Ohio's Sharon Speedway, thus Dale knows the risk that Clinton County management took to promote Saturday's high-dollar purse under such poor weather conditions.
"Everybody knew it was going to rain, everybody looks at the weather channel. There is no doubt it kept cars away, they got 23, but I was expecting 38 to 40," said Blaney.
"There were good cars here, but I'm sure the rain kept more away. They might have stayed home or raced closer to home. But I sure do appreciate what these guys did to move this show along and get it in today and they paid great money too."