Billy Pauch Family Trifecta Night At Kutztown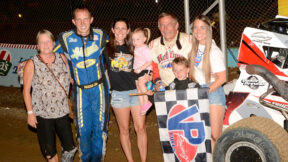 By MARK TIDERMAN
Wednesday night's show at the Kutztown, PA  Action Track USA was dubbed Pauch Trifecta Night. It was a nice tribute to the Pauch family for their 65 year commitment to racing. There were three generations of the historic family racing on the same night at the same track.
Billy Sr. Billy Jr. and young Billy Pauch III all competed and true to form, 'Billy the Kid' – Billy Pauch, Senior – won the SpeedSTR feature. That was his second straight win as he won the last time the SpeedSTRs raced at the Fairgrounds in Kutztown.
Not too bad at all for a retired race car driver, but then we are talking about Billy Pauch.
There to greet his grandfather in victory lane and hand him the checkered flag was Billy Pauch III.
"Tonight's a very special night for me, my grandson and my son, all three of us racing on the same night. When we went out and paraded the flag for national anthem that was big! That was almost like winning a big race for me." the elder Pauch stated. "Being here with this crowd, my grandson and my son, well that was more important than this win."
"It's nice to have a fourth generation racing. My father  started it, I took it up, my son took it up and now it's his turn," said Pauch gesturing to little BP3. "This would be a good night to say I've had it with the SpeedSTRs but I enjoy the thing so much. It's hard to jump o
ut of the car when you're winning. And, man it helps to start up front."
Pauch started fourth and was soon  chasing Dustin Morris for the lead. Unfortunately Morris got sideways right in Billy's path. "I was going to slide him. I kind of went in a little aggressive when I saw him get sideways. I thought, oh my God, and turned left and lifted. I almost got into him. I thought the caution was coming out. Then I realized there was no caution so let's keep going."
Morris was able to save it from spinning. "I enjoy racing at this track and these cars. They know they have motor issues with these cars and Rich is working on that. I like them because they are not a lot of work compared to a Modified.
"They're not an expensive race car and you run for better money that some Modified tracks. They
run for $1,500 to win and I won $2,500 tonight.
"I've got to go to another auction and buy more equipment.  That's the whole idea of winning is to take your money and buy some stuff.
"This night with my son and my grandson, all three of us, was great. I thank everyone here tonight. From the bottom of my heart I want to thank everyone
for coming out here tonight to enjoy this."