Racing This Friday Cancelled – Racing To Resume On New Clay Friday, June 9th
By STEVE BARRICK
Gary Palmer had long dreamed of widening and enlarging Accord Speedway, the place that has become his life's work. His off-season goal was to reconfigure the track, built in 1962, to make it wider, racier, more competitive, more fan friendly.
Unfortunately, Palmer's well calculated action plan has not worked out as he had expected. The track opened with a very rough and dusty surface for a STSS Modified event. Afterwards Palmer promised to take off the new clay, let it dry and they put it back in layers to build a solid base. At the track's Friday night opener two weeks ago (May 19), the entire program was run up to the Modified feature. After two unsuccessful attempts to start the race, the cars went back to the pits and night was ended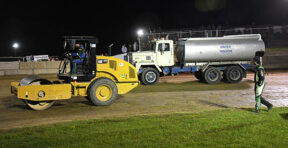 "We raced, got down to the Modified feature. I didn't like what I was seeing with the dust. Didn't want to see anybody wreck their car because of the lack of visibility. I did what I felt I had to do, cancel the Modified feature," Palmer told Area Auto Racing News.
"I dug the track up, took off all of the clay I had bought, dug down two feet," Palmer began. "When we put the first batch of new clay on, we got a lot of rain and the area got flooded. It was under water, and it never dried out. I tried turning it over with a disc a lot of times. Two feet down with an excavator to get to where it was finally dry."
Palmer spent last week and will spend most of this week taking off the new clay he had applied to his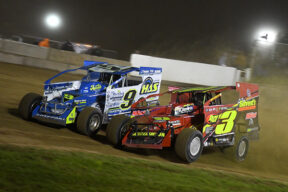 widened speedway before the start of the season. After more work to improve the surface following that event, Palmer postponed the entire show the next Friday (May 26th) after what he felt was unsafe conditions after warm-ups had been held.
The nature of the clay itself,  which Palmer said has characteristics of "talcum powder", coupled with the rainy siege while work was being performed, has created an area leading into the third turn that is sodden with water below the surface.
"This past Friday, we went out in the third turn, pumped water out of it again. It's a big area, a hundred feet long, right dead in middle of where the cars are racing. It would have been like a roller coaster there in turn three, we have to get that fixed before we can race," Palmer said.
"I can't commit to anything right now. I have other clay, hope to get it Tuesday or Wednesday this week,"  Palmer told AARN on AARN's Monday deadline.
"I doubt very much I will be racing this week, don't want to put myself in a position. What ever we decide I'll know by Wednesday of this week and will post it on our website and Facebook page."
On Tuesday (May 30) it was posted on Accord's Facebook page that Friday night's June 2 event was indeed cancelled to give Palmer amble time to bring in new clay. Racing is now rescheduled to resume on June 9th.
Palmer has pledged to refine the improvements he has made to get Accord Speedway back in shape
"I'll get it, the new track shape  is going to make for excellent racing. We'll get it right with the new clay," said Palmer
Clay has been the issue throughout the project.
"I couldn't get the clay I had wanted at first because it was too wet and we would have had to build a road to go down and get it. So I had to get this other clay. But that clay was garbage, it's now all off the track and now have to get new clay to replace it. There is a farm three miles from here, plenty of clay there, as long as we can get in there to get it," Palmer shared.
Though Palmer now knows his first resurfacing of his track was done with clay lacking in desirable properties, he attributes part of the dust problem that Accord, and other dirt tracks are experiencing, to the coil over rear suspension systems that have proliferated in Dirt Modified racing.
Palmer said that he is gratified  that far more people have offered their support to Accord than have not.
"I know I have to get this right need to get this right, and will get it right," the Accord Speedway owner said.
As a test run for racers and the new surface, Palmer is hoping to schedule a mid-week practice days before the scheduled June 9th event on the new surface.
Check this story and more in Area Auto Racing News, get the digital edition with instant access and full color photos for just $5 a month!
CLICK HERE FOR DIGITAL EDITION