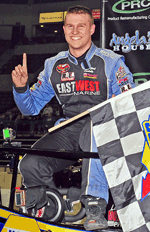 ATLANTIC CITY, NJ January 8, 2015 . . . The entire equation of the NAPA Know How Racing Weekend inside Atlantic City's Boardwalk Hall changed dramatically this past week with confirmation of the entry of Ryan Preece into the Three Quarter (TQ) Midget field.
The two-day race program is set for Friday and Saturday, January 30-31, 2015 and is the latest event under the promotional endeavors of Len Sammons Motorsports Productions (LSMP).
Preece, 24, of Berlin, Ct., will be looking for redemption after a disappointing 2014 Atlantic City race. The NASCAR Touring Modified Series and NASCAR Nationwide Series standout takes his Indoor TQ racing every bit as seriously as he does his NASCAR pursuits.
"We have a good car," Preece said. "And we're making it better. The car had a violent hop here last year which was a problem which we had to diagnose. Then we blew the engine up in practice.
Far from being discouraged, Preece and company rolled up their sleeves and got to work. "There are a lot little things we've identified and have fixed," Preece allowed.
Preece did run the car one more time indoors last year, in February, 2014 at the inaugural Battle Of Trenton, and won one of the Twin Twenties features on the set-up night for the Battle Of Trenton.
Preece's team is a collaborative effort. Fellow Connecticut residents Mike Murphy and Doug Dunleavy own the car itself while Preece and his father own the engine.
With the TQ entry list approaching a record 100 cars, Preece's car will have to be good. All told, as many as 200 entrants in the three classes of competition will test the concrete floor of Boardwalk Hall.
To score a TQ feature win, Preece will need to outrun a talented, experienced bunch of rivals including Jimmy Blewett of Howell, N.J., Anthony Sesely of Matawan, N.J., Erick Rudolph of Ransomville, N.Y., Ted Christopher of Plainville, Ct., and Andy Jankowiak of Buffalo, N.Y. Rudolph, Christopher and Jankowiak were winners in the most recent LSMP races last month inside Trenton's Sun National Bank Center and are likely contenders for ultimate victory in Atlantic City.
Other top TQ Midget entrants include NEMA Champion Randy Cabral of Plymouth, Ma., Can-Am TQ Midget champion Mack DeMan of Mississauga, Ont., and Ryan Flores of Davidson, N.C., who was a competitive runner-up in Trenton in December.
Flores, a Joey Logano NASCAR Sprint Cup Series crew member and formerly a New Jersey resident, was making his debut in TQ racing in a brand new Mark Lafler built car.
The climactic race is the NAPA Know How Atlantic City TQ Midget feature on Saturday night which is run, over a 40-lap distance and known as the Gambler's Classic.
On Friday, TQs will race in a complete program while two support classes, the Lentini Auto Salvage (LAS) Slingshots and Champ Karts, will complete their qualifying events in preparation for Saturday's features.
In addition to a generous prize money payout, the weekend of events boasts a dozen and a half 'special awards', many with lucrative cash prizes.
LAS Slingshot favorites include Matt Carman of Three Bridges, N.J., John Gilroy of Stroudsburg, Pa., Trenton Slingshot feature winner Gary Hieber of Langhorne, Pa. Joe Kata of Goshen, N.Y., brothers Jimmy and Dan Spellmon of Butler, N.J., and Ricky Yetter of Easton, Pa.
The Slingshot race is considered to be a wide open affair for this reason: not a single one of the winners of the previous dozen Slingshot feature race winners is entered in this year's race.
Champ Karts, with sixty entries will be headed by recent Indoor Race winners Anthony Colandro of Albertson, N.Y., and Trenton winners Chris Daley of Pleasant Valley, N.Y., and Justin Gumley of Howell, N.J.
The roar of racing engines was first heard inside cavernous Boardwalk Hall in Atlantic City, N.J., in 1938 when an enterprising promoter thought bringing race cars, and fans, in from the cold in the dead of winter seemed like a good idea.
Sixty-five years later, in 2003, Len Sammons Motorsports Productions (LSMP) resurrected the concept and it has become the Mid-Winter Motorsports Happening in the racing world.
Tickets for the event are available at the Boardwalk Hall Box Office, all Ticketmaster locations and online at www.ticketmaster.com.
Advanced, lower level ticket holders are invited to Fanfest on Saturday night starting at 5pm, for an opportunity to walk the track and meet the drivers before the racing kicks off at 7pm.
For more event info visit www.aarn.com or call the Len Sammons Productions office at 609-888-3618.