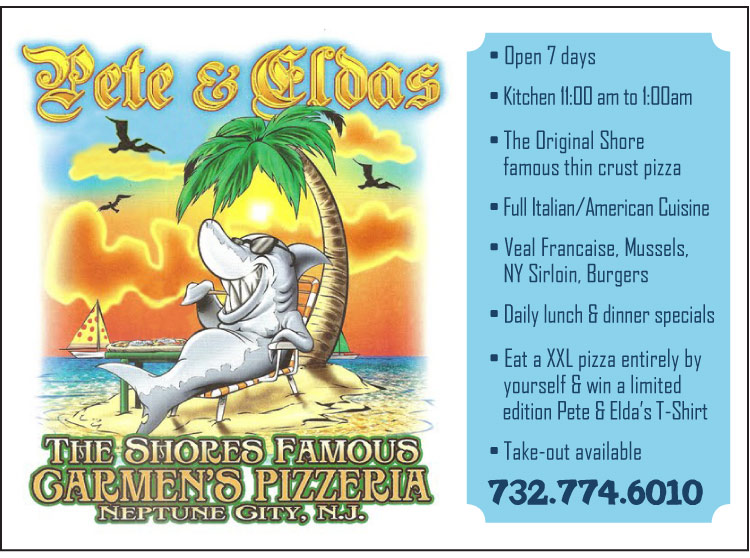 TRENTON, NJ February 23, 2016 . . . Though the decisive struggle for the Battle Of Trenton is in Saturday night's Three Quarter (TQ) Midget feature, Friday night's TQ  Midget Triple 20 Qualifiers have received some added focus with the signing of a new sponsor and a unique handicapping system. The added buzz to Friday has made attending both days of this weekend's NAPA Auto Parts/ Oliver Construction, Inc. sponsored events at Trenton's Sun National Bank Center as not to be missed events.
Pete & Elda's Bar / Carmen's Pizzeria, located in Neptune, N.J., has lent its name to the support of the Friday TQ qualifiers, races in which a "do-or-die' ethic prevails and caution is thrown to the winds. George Andretta, owner of the local hot spot bar and restaurant, is a past driver and championship contender at Wall (NJ) Stadium. As part of the sponsorship arrangement, extra prize money will be distributed to racers in the Triple Twenties. The TQ Qualifiers were a huge hit at the most recent event in Atlantic City with top qualifiers starting mid-pack in these events. In Atlantic City, Rudolph blasted from 10th to win his 20 lap race, while new winners were able to go to victory lane in the other Friday showcase events.
The Battle Of Trenton is the third and final race of the Len Sammons Motorsports Productions (LSMP) Indoor Racing Series presented by VP Racing Fuels. The series played to a sold-out crowd in Allentown, PA on January 2nd. The next stop was Atlantic City's Boardwalk Hall where Anthony Sesely took top honors. The series point championship will now be decided this weekend at the Sun National Bank Center.
Tickets are available online at www.comcastix.com or by phone at 1-800-298-4200. Tickets may also be purchased at the Sun National Bank Center Box Office. All ticket prices do not include a $2 facility charge; ticket prices increase $5 for tickets purchased on the day of the events.
While 68 TQ Midget teams have registered, just four drivers have a true shot at the Series point championship going into the climactic "Battle of Trenton", a 40 lap finale to be held on that Saturday night. N.J.'s Anthony Sesely leads Ontario, Canada's Mike Lichty by just one point. With points awarded for fast time, Friday night's qualifying races and Saturday's A-Main every position in every race will count. Sesely, Lichty, Ransomville, NY's Erick Rudolph and Howell, NJ's Jimmy Blewett could each go into Saturday's A-Main with the opportunity to win the championship. Rudolph held the early series point lead after winning the opener in Allentown, PA on January 2nd. Sesely grabbed the top spot in the points after taking the NAPA Know How feature event on January 30th inside Atlantic City's Boardwalk Hall. Andy Jankowiak, who won the 2015 Battle Of Trenton and consistent Tim Buckwalter are still very much in the chase for the title as well, but would need the top four drivers to falter in order to cash in on their title hopes.
The Battle Of Trenton Friday schedule of events consists of Pete & Elda's Bar / Carmen's Pizzeria TQ Midget Qualifiers and a complete card of Champ Karts culminating with a 20-car, 20-lap feature. On Saturday, TQ Midgets continue their qualifying to pare the field down to 24 starters for the Battle Of Trenton 40 lap main event. A complete program of qualifying events and a feature event will be also held for the Slingshots on Saturday which will decide the Slinger Warehouse Indoor Series title. Access to the pre-race trackside Saturday Fanfest is included with admission for Front Row or Lower Level Reserved Seats for Saturday ticket holders. All families with a young child will also be invited to Fanfest. A third day of the Battle Of Trenton is on Sunday, Feb. 28 dedicated to Quarter Midget racers and Micro Stocks. The front doors are closed for this event, but admission is available through the back gate pit area entrance. Check aarn.com for more information or phone 609-888-3618.