By LEN SAMMONS
Major League baseball games in New York City and Philadelphia were postponed on Wednesday night because of poor air quality levels from wildfires in Quebec, Canada. Weekly racing, however, at Pa.'s Kutztown Action Track went on as scheduled.While Kutztown co-promoters Richard Tobias and Doug Rose saw an decrease in attendance, car counts remained solid in all four divisions.
"I checked first to make sure the state of Pennsylvania wasn't going to shut me down," said Tobias afterwards.
"We had great fans come out tonight. It certainly hurt us at the gate a little bit, but smoke wasn't going to stop us.
"People didn't have to come if they were scared. It's all about drama today, but that's not me," said Tobias afterwards.
"If you wanted to come race or watch, it was up to you. We had a great turnout considering the situation."
Only the 600cc Micro Sprint  car count dropped from 51 the week before to a still very strong 36. The two Slingshot classes saw an
increase with a Touring Series race being held. The SpeedSTR count was consistent to what has been in the pit area this season."I guess some people were a little scared, but today anything is a reason not to go to the races," said Tobias
"We keep working hard so there is a reason to come no matter what. We had awesome racing tonight as usual. Those not here really missed something special."
Promoting auto racing is a business. While Tobias knew ahead of time that Wednesday's program wasn't going to be a money maker, he was willing to put in the time and hard work so the event was held as scheduled.
"It was probably a break-even night. You never want to work for free, but we always want to give a good night of racing for our racers and loyal fans," said Tobias.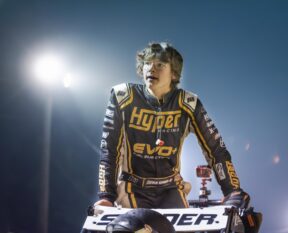 "The track has been racy all year. Wait until next Sunday (June 18) when the USAC National Sprint Cars are here for the first time. I'm going to make it nice and heavy for them, the fans will see a show like they've never seen before."Wednesday's event featured incredible racing that was completed by 9:30. Tim Buckwalter won his third in row in the SpeedSTRs after starting 11th. Billy Pauch Jr. started scratch in his father's SpeedSTR, but drove up to finish second. Briggs Danner held off Mike Bednar in the final laps for third.
The 600cc Micro Sprints give Kutztown the credibility of being named the "Action" Track. Honestly there often is too much to watch, you just can't be looking everywhere. Steven Snyder Jr. tried to knock down the outside wall while using patented slide-jobs to work from sixth to the lead to take his second win of the season.
Enjoy this story, check out the full paper online!
Try our digital edition FREE for 30 Days!