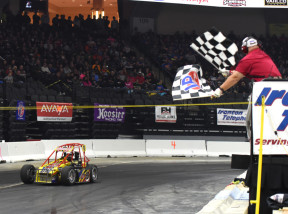 ALLENTOWN, PA (Jan. 2, 2016) – Erick Rudolph proved invincible Saturday night as he led every one of the 40 laps in the Ironton Telephone TQ (Three Quarter) Midget 40-lap feature at Allentown's PPL Center in front of a sold out crowd.
Rudolph, no stranger to victory in TQ Midget racing, managed two obstacles to perfection to win.
"Lapped traffic can always screw up your race but tonight they were all pretty considerate," Rudolph, 23, of Ransomville, N.Y. said. The second potential pitfall to Rudolph's victory was one he controlled all on his own, a dozen restarts with rivals alongside and behind him. "I never really had a problem with the restarts," Rudolph confessed. "The new Lafler car was perfect."
Ryan Flores, a transplanted 'Jersey guy' who now lives in Mooresville, N.C., ended up second for the third time in the last four Indoor TQ races, each of them behind Rudolph. "I'm kind of getting tired of seeing that yellow number 22 in front of me," Flores said. "But finishing second in this field is a victory any time, to be honest."
Canadian Mike Lichty closed late in the race to finish third over Jimmy Blewett who ran as high as second before dropping to fourth over the final ten laps. "Once I got by Blewett, it was pretty much too late," Lichty said. "The car came in pretty well but I lost a few spots on a couple of the early restarts and fought to get it back."
Tim Buckwalter was fifth, just behind Blewett in a torrid battle to the checkered. Another Canadian, Rob Neely was sixth. Anthony Sesely, Patrick Emerling, Jonathan Reid and Earl Paules rounded out the top ten.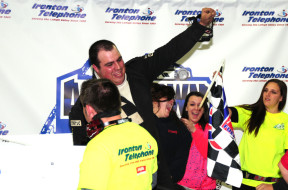 In the companion 20-lap Slingshot feature race, Eddie Reeder, a 24-year old driver from Harmony, N.J., who is an Indoor Slingshot specialist, led every lap of the way in an attrition-filled race that saw just nine drivers go the distance. Joe Kata III was the second place finisher, taking the nod with a pass on the final restart of Cody Kline. Frank Yankowski and Danny Spellmon trailed.
The Indoor race was the first of its kind in the Lehigh Valley in half a century and drew an enthusiastic, standing room only crowd.
"This is the first sellout we have had in fourteen years of the Len Sammons Motorsports Productions events," said series founder Len Sammons. "The Lehigh Valley area support for this event has been gratifying to say the least."
The race was the first of the three 2016 events that comprise the Indoor Auto Racing Championship Series Fueled By VP Fuels. Subsequent races are scheduled for Atlantic City, N.J. on January 29-30 and Trenton, N.J. on February 26-27, 2016.
Seventy one TQ Midgets took time in the Bob Hilbert Sportswear Time Trials. Quickest was Andy Jankowiak, driving the same car he had won with last year Indoors at Trenton, N.J. His 7.514 was far quicker than Ryan Susice, Ransomville Speedway's 2015 champion, who was second quick at 7.672. Past Indoor race winners Anthony Sesely (7.673), Ted Christopher (7.689) and Patrick Emerling (7.708) trailed.
Six TQ qualifying heat races, sponsored by All American Property Maintenance, were won by Justin Bonsignore, Jimmy Blewett, Erick Rudolph, Lou Cicconi Jr., Ryan Flores and Neal Williams.
Three Slinger Warehouse Slingshot heat races, presented by Pocono Raceway, were taken by Chris Kurtz after his teammate Jesse Hartman was disqualified, by Anthony Raisner and by David Carraghan.
Three TQ Midget B-Mains were won by Alex Bright, Bobby Holmes, fifth fastest qualifier, who had spun out of a heat race qualifying spot after a tangle with lapped traffic. A solo Slinger Warehouse Slingshot B Main was snared by Kurt Bettler.
Future Homes was the Presenting Sponsor for the night of racing. Associate race sponsors included E.G. Schneider & Son, Racing Electronics and Hoosier Racing Tires.
PIT NOTES: The logistics of putting an indoor event together are particularly acute when the event is taking place in an arena for the first time. This was the case in the PPL Center in Allentown. As it happened, the advertised starting time of having cars on the track for warmups – 1:00 PM – was missed by just fifteen minutes, creditable in any case and certainly for a first time operation.
Part of the time savings came from a two and a half hour move in time; track officials had predicted about four hours to turn the trick…
Officially, Jimmy Blewett completed the first lap on the PPL Center floor, having been in the first practice group. Ryan Tidman was right behind him for the first slow lap on the new track…
Mark Lafler, dominator of recent TQ races as a winning car builder, had eighteen cars in the field for this race, four of the brand spanking new. Ryan Susice, Jonathan Reid, Patrick Emerling and Erick Rudolph all had new ones…
Earl Paules delighted race associate sponsor and his primary sponsor when he finished second in the first B-Main, making it into the big show with a sterling drive…
Just missing the A-Main, with third place finishes in the three Bs were Joey Payne, Geoffrey Sutton, and Zane Zeiner…
Will Cagle's TQ Midget debut, at age 77, fizzled early. Cagle waved off the third practice for TQs when his car failed to fire at first, then shut off completely. Cagle signaled the ATV push truck to shoot him into the pits…
Ironton Telephone TQ Midget Feature (40 Laps): 1. Erick Rudolph, 2. Ryan Flores, 3. Mike Lichty, 4. Jimmy Blewett, 5. Tim Buckwalter, 6. Rob Neely, 7. Anthony Sesely, 8. Patrick Emerling, 9. Jonathan Reid, 10. Earl Paules, 11. Bobby Holmes, 12. Ryan Susice, 13. Jimmy Zacharias, 14. Lou Cicconi Jr., 15. Andy Jankowiak, 16. Dakota Kessler, 17. Pat VanVarick, 18. Sheldon Iudicello, 19. Neal Williams, 20. Ted Christopher, 21. Matt Janisch, 22. Justin Bonsignore, 23. Alex Bright, 24. Andrew Krause.
Slinger Warehouse Slingshot Feature (20 Laps): 1. Eddie Reeder, 2. Joe Kata III, 3. Cody Kline, 4. Frank Yankowski, 5. Danny Spellmon, 6. Kyle Herve, 7. Doug Maher, 8. Nick DelCampo, 9. AJ Gerhart 10. Anthony Raisner, 11. Nick Shaw, 12. Ed Stangle, 13. Matt Langbein, 14. Mike Glass, 15. Dave Carraghan, 16. Jim Housworth, 17. Kurt Bettler, 18. Tim Roeder, 19. Chris Kurtz, 20. Coby Kohler.