By LEN SAMMONS 
Late in Saturday's non-stop feature at Lincoln Speedway, Brent Marks sat third behind race leader Danny Dietrich andchallenger Anthony Macri. Entering turn three, Marks went for it all and pulled off a stunning third to first slider.
"I wasn't able to move around like I wanted to with all the lapped cars. I saw an opportunity in three and four to slide them both so I figured I'd give it a try but just wasn't able to get the drive off down the homestretch," said Marks.
Fans took a deep breath, Dietrich and Macri had to be shocked. Marks said it was all done on insti nct, nothing was planned. "It's hard to plan anything, it's just a reaction. Sometimes you get a run off and make a move at the next corner entry,"
 explained Marks.
"That's what the situation was there. Got a good run off two and there was no sense following them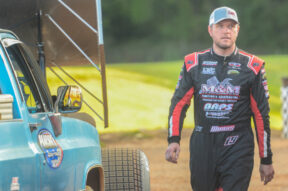 again in three so I tried that move. Would have been great if it worked, but unfortunately it didn't."
While the incredible move in heavy lapped traffic didn't result in a victory for Marks, it absolutely added to what was one of the best features of the season, one that started off PA Speedweek on a high note for the fans.
If there was one complaint, it was that the race ended and wasn't longer! Justin Peck and Freddie Rahmer were only a few laps from joining the top three cars.
Marks gave it his all on Saturday. After going from third to first in one set of corners, Dietrich and Macri both passed him back on corner exit. Macri would then make a winning move stick on Dietrich during the final five laps that left everyone who was watching, including veteran announcer Wayne Harper, speechless.
"It was fun, but you always want to win a race, especially when you do it for a living, but we're happy," said Marks. "Literally in the last dozen races we contended for a win every single race, either finished top-two or crashed or something happened. I'm so proud of this team for the effort they have put in."
Despite the high-speed chaos among the leaders and lapped cars, Marks knew exactly where he was and how many laps were left in the event.
"I was able to take a peek up and look at the board and see what lap we were on when we were not in heavy traffic. Over the years, I've learned to know where I'm at in a race, when to push and when not to push," said Marks.
Despite the quality of the field on hand, the top three cars lapped up to the 16th place finisher. Marks, however, was happy those cars were there. Unlike the race leader, he was glad the race went off non-stop in eight minutes and 15 seconds! "I didn't want to see a yellow.
Danny and Anthony were both really good too," said Marks. "Once out in clear air it would have been hard to run them down and make a pass. I needed lapped traffic to equal it out and it really turned out to be a great race."
To cap off the event, Marks rode high off the far outside cushion in the race's final turn to slingshot between Dietrich and the outside wall beating him to the line by 0.136 of a second for the runner-up position. The pass pushed Marks' earnings from $2,500 for third to $5,000 for second!
"All three of us are aggressive drivers, but you have to be to have a chance to win these races," said Marks.
"We try to race as clean as we can, but there will be times when we get into each other, it's only going to happen when you race together 80-plus races each year."
On Sunday, things didn't go so well for Marks, during the feature he took a nastly flip that found him land on the top of Devon Borden.
"As much as you want to make every pass clean, sometimes it just doesn't happen that way when you're racing that same guy up front race after race," said Marks after Lincoln's event.
"Tonight, everything was clean, but it doesn't always work out that way."
Marks is a professional race car driver from Myerstown, Pa., running an 'outlaw-style' schedule again this year.
Of 112 races posted on his pre-season plans, Lincoln was the 58th. Although he was coming off a thrilling Ohio Speedweek finale win in Portsmouth a week earlier, Saturday's runner- up finish might have been the most fun he's had in a race car all season.
"That was a lot of fun, ranks up there towards the top of all the races I've had so far this year," said Marks afterwards. "We had a really good car, one good enough to win at the end. Just could not get the opportunity to make a move on those two guys. Every time I had a run on them coming down the homestretch there was a lapped car ahead in turn one." Marks, the defending PA Speedweek champion, decided to stay at home and race in that series rather than travel to Brandon, S.D. to compete with the World of Outlaws in a $250,000- to-win event at Huset's Speedway on Saturday night.
If all 10 PA Speedweek events were held and one driver won them all and the championship, their earnings would have been $113,092. That's $111,908 short of the record Huset payoff taken by David Gravel.
After the first PA Speedweek event was rained out on Friday at Williams Grove, and Lincoln appeared to be in trouble of losing Saturday's event, Marks' decision to stay hope might have been questioned.
"I'm thankful Lincoln put in the effort to race tonight and the way the weather is being predicted it looks like it's going to be a challenge all week," said Marks.
"But that's part of racing. Tracks do the best they can to make the right decisions and I feel Lincoln did that."
While the purses in Sprint Car racing have become more and more lucrative, the cost of doing business for the teams has risen as well. Marks said it will cost between $12-16,000 to compete if he runs each night during Speedweek.
"It costs quite a bit to race these cars. For guys who come to race this week from out of town the price is much higher. We're fortunate that we get to go back home to our shop each night and don't have a hotel cost," explained Marks.
"Speedweek is grouped together nice too. We don't have to drive two, three or more hours to a different race track every night so our diesel fuel cost isn't super high. Our biggest cost is tires, that's about $2,000 a night. It all adds up." Lincoln's event was delayed because of a late afternoon shower, yet track guru Fred Putney was able to get the surface back into racing shape quickly. The entire two division program was completed well before 10 p.m.
"Before the first rain shower hit I thought the track was going to be dry. But the rain seemed to help the track. Made the heat races a little difficult, but it was awesome for the feature," said Marks.